Topic: Holiness In God's Presence
[DCLM Daily Manna 1 November 2019 Daily Devotional by Pastor William Folorunso Kumuyi] Text: Exodus 24:1-11 (KJV)
Key Verse: "Then went up Moses, and Aaron, Nadab, and Abihu, and seventy of the elders of Israel: And they saw the God of Israel: and there was under his feet as it were a paved work of a sapphire stone, and as it were the body of heaven in his clearness" – (Exodus 24:9,10).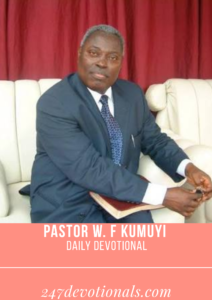 MESSAGE:
"For the called, the vision of God is not destructive but safety and joy. We meet the unveiling, not only of infinite holiness, but also of infinite love. The vision of divine glory was a wonder and delight and the place of vision became a place of feasting" (Rev H. T. Robjohns). It is usually believed that no mortal can see God and live. But it is different when it is God Himself that invites you into His presence. What a glorious experience this usually is!
Moses and selected elders of Israel had this very rare and unique privilege. The Lord Himself had invited them to come up to Him. But like we would do when we receive a call from a top and very important personality – we would have a clean wash and make ourselves ready for the visit – Moses ensured that he and the others were spiritually ready. The Lord welcomed them with delight. He made them see His majestic glory and holiness.
In like manner, the Lord delights we see Him each time we come into His presence. We are not to dread His presence but derive great delight whenever we come before Him. Our personal devotion period, fellowship, worship and time of personal and corporate retreats are great moments that God uses to reveal His presence and glory. No matter how melodious our praises may sound, if our lives are not clean and holy, God cannot inhabit such worship. Holiness is revealed in our readiness to accept and obey His revealed word. This is what it takes to see God.
Seeing God should not be a once-and-for-all experience. It should be our daily delight and privilege. This can truly be if we maintain a daily life of holiness and obedience to His word. What a glorious delight!
Support the Good work on this Blog Donate in $ God Bless you
[jetpack_subscription_form title="GET FREE UPDDATE VIA EMAIL" subscribe_text="JOIN OTHER CHRISTIANS GET UPDATE BY EMAIL" subscribe_button="Sign Me Up" show_subscribers_total="1"]
THOUGHT FOR THE DAY: Holiness invites God's presence.
THE BIBLE IN ONE YEAR: Jeremiah 31-32