Table of Contents
Support the Good work on this Blog Donate in $ God Bless you
[jetpack_subscription_form title="GET FREE UPDDATE VIA EMAIL" subscribe_text="JOIN OTHER CHRISTIANS GET UPDATE BY EMAIL" subscribe_button="Sign Me Up" show_subscribers_total="1"]
TUESDAY, 24TH JANUARY, 2023.
SUB-THEME: THE GOD OF PEACE.
TOPIC: PROMISED TO ABIDE WITH US.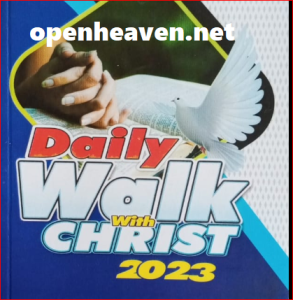 25 "I have said these things to you while still living with you.
26 But the Counselor, the Holy Spirit, whom the Father will send in my name, will teach you all things, and will remind you of all that I said to you. Luk 24:49 Joh 15:26 Joh 16:7 Joh 16:13 Act 2:4 [Act 1:4]
27 Peace I leave with you. My peace I give to you; not as the world gives, I give to you. Don't let your heart be troubled, neither let it be fearful. Phi 4:7 [Joh 16:33]
28 You heard how I told you, 'I am going away, and I will come back to you.' If you loved me, you would have rejoiced because I said 'I am going to my Father;' for the Father is greater than I. Joh 14:3 [1Co 11:3]
29 Now I have told you before it happens so that when it happens, you may believe. Joh 13:19 Joh 16:4
30 I will no more speak much with you, for the prince of the world comes, and he has nothing in me. Joh 12:31 Joh 16:11 Eph 2:2
31 But that the world may know that I love the Father, and as the Father commanded me, even so I do. Arise, let's go from here. Joh 10:18 Heb 10:5 [Isa 50:5]
TOPIC: PROMISED TO ABIDE WITH US.
MESSAGE:
The disciples of Jesus enjoyed his company during his ministry. Prior to his departure, he promised to send the Holy Spirit who will abide with them. He will come as a teacher, comforter and an advocate adjudicate them from their troubles and grant them permanent, satisfying and deeper peace in their hearts. He made them to understand that the peace the world offers is illusive. Therefore, the Holy Spirit will help them to overcome fear and live in peace. Troubles and conflicts abound. The one who believes in Jesus will enjoy a continuous infilling of the Holy Spirit to live successfully amidst prevailing forces. Are you abiding in this promise? If yes, keep on.
REFLECTION:
The Holy Spirit is with us.
PRAYER:
Thank you Lord, for not leaving us alone. Amen.
MEMORY VERSE FOR THE MONTH: ROMANS 15:33.
"The God of peace be with you all. Amen,
TODAY'S BIBLE READING: EXODUS 16-17.
Daily Walk With Christ – COCIN Devotional 24TH JANUARY 2023