Topics: God's Will, Grief
God Our Comforter
By Billy Graham
February 27
I, even I, am he that comforteth you . . .
—Isaiah 51:12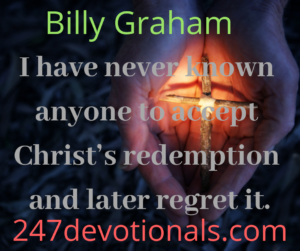 There is also comfort in mourning, because in the midst of mourning God gives a song. His presence in our lives changes our mourning into song, and that song is a song of comfort. This kind of comfort is the kind which enabled a devout Englishman to look at a deep dark hole in the ground where his home stood before the bombing and say, "I always did want a basement. Now I can jolly well build another house, like I always wanted." This kind of comfort is the kind which enabled a young minister's wife in a church near us to teach her Sunday school class of girls on the very day of her husband's funeral. Her mourning was not the kind which had no hope—it was a mourning of faith in the goodness and wisdom of God; it believed that our heavenly Father makes no mistakes.
Read more about grief and loss.
Support the Good work on this Blog Donate in $ God Bless you
[jetpack_subscription_form title="GET FREE UPDDATE VIA EMAIL" subscribe_text="JOIN OTHER CHRISTIANS GET UPDATE BY EMAIL" subscribe_button="Sign Me Up" show_subscribers_total="1"]
Listen to Billy Graham's message, "Jesus Our Comforter"
Prayer for the day
Oh heavenly Father, who knows what agony and grief are because of the sacrifice of Your beloved Son, Jesus Christ-I thank You for the comfort which embraces all those who love You.