(FROM THE JANUARY 2019 EDITION OF THE SEEDS OF DESTINY DAILY DEVOTIONAL BY DR. PASTOR PAUL ENENCHE)
TOPIC- 

PLACING GOD FIRST IN LIFE – KEY TO A YEAR OF FULFILMENT
Read – Previous Seed of Destiny Devotionals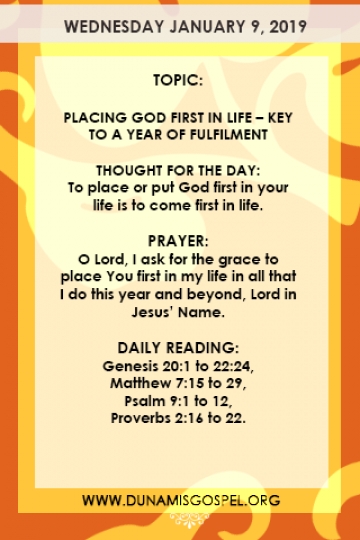 SCRIPTURE: Seek ye first the kingdom of God and his righteousness and all other things shall be added unto you. Matthew 6: 33.
THOUGHT FOR THE DAY: To place or put God first in your life is to come first in life.
There are visions, aspirations, ambitions, goals and targets that one usually sets at the beginning of every year to realize, attain or achieve within the year. At times, these could be part of a decision package commonly referred to as New Year resolutions.
Today, being the ninth day of January, I am convinced that you might have set out your visions, desires, aspirations and ambitions for the year. But even if you have not yet done that, it is very necessary to see things in the eyes of the spirit before they arrive.
Now, it is important to know one key that would make you achieve your goals this year, and that is your dedication to God. It is not just enough to set goals and targets for the year; it is important to know and serve the God who would ensure that you are alive to see them come to pass and make them possible in your life.
According to our anchor Scripture, when you seek God first, other things would be added to you.
Beloved, the place you give to God in your life determines the place you would occupy in life. When you seek God first in life, you cannot come last in life. This is because God proves Himself in the lives of dedicated people, that is, those who seek Him first in their lives. Abraham was one great example of a person who was dedicated to God by placing God first above everything in life. In Abraham's generation, he was ahead of everyone in everything. This means, to place God first in life is to come out first in life. When God is first in your life, you cannot come last in life.
Support the Good work on this Blog Donate in $ God Bless you
[jetpack_subscription_form title="GET FREE UPDDATE VIA EMAIL" subscribe_text="JOIN OTHER CHRISTIANS GET UPDATE BY EMAIL" subscribe_button="Sign Me Up" show_subscribers_total="1"]
My counsel is, make up your mind to be brutally dedicated to God this year and beyond. Make God the first priority of your life and you will stand out in life.
Remember this: To place or put God first in your life is to come first in life.
ASSIGNMENTS: THE SEEDS OF DESTINY DAILY DEVOTIONAL
1. Make up your mind to put or place God first in your life in everything you do.
2. Make God the first priority in all your life's decisions.
relationship.
PRAYER: O Lord, I ask for the grace to place You first in my life in all that I do this year and beyond, Lord in Jesus' Name.
FOR FURTHER UNDERSTANDING, GET THIS MESSAGE: UNDERSTANDING DEDICATION.
TODAY IN HISTORY: 09/01/1793- Jean-Pierre Blanchard made the first successful balloon flight in the U.S.
DAILY READING: Genesis 20:1 to 22:24, Matthew 7:15 to 29, Psalm 9:1 to 12, Proverbs 2:16 to 22.
AMAZING FACT: Worldwide, the airline industry generates about US$640billion.
QUOTE: There can be no rising without reason. Culled from BE WISE AND RISE by Dr Paul Enenche.