THE SEEDS OF DESTINY DAILY DEVOTIONAL BY DR. PASTOR PAUL ENENCHE 12 December 2018
(FROM THE DECEMBER 2018 EDITION OF THE SEEDS OF DESTINY DAILY DEVOTIONAL BY DR. PASTOR PAUL ENENCHE)
 TOPIC- HINDRANCES TO ANSWERED PRAYERS EEDS OF DESTINY DAILY DEVOTIONAL
SCRIPTURE: And even when you do ask you don't get it because your whole aim is wrong – you want only what will give you pleasure. James 4:3 (TLB)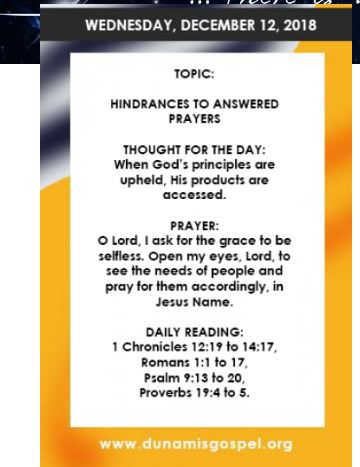 THOUGHT FOR THE DAY: When God's principles are upheld, His products are accessed.
It is true that many people engage in prayers. However, it is not every prayer that is answered by God. Many people realize that their prayers are not being answered, and in their frustration, they begin to think that God is either partial or selective in His dealings with humanity.
The truth remains that God is not a Respecter of persons; He is a Respecter of principles. When God's principles are upheld, His products are accessed; when God's principles are violated, His products are forfeited. Many times, when prayers are not answered, God's principles may have been violated.
Now, those things that violate God's principles regarding answered prayers are called hindrances to answered prayers. One hindrance to answered prayers is the life of SELFISHNESS. Our anchor scripture says…you want only what will give you pleasure.
God is not against you enjoying pleasure, but He is concerned about the Kingdom content in your desire. Is there room for the welfare and wellbeing of other human beings in your desire? Are your prayer requests all about yourself? Some people only ask God for things so they can brag about them to other people. God hates self-centredness. When you ask for financial resources, is it for the propagation of the gospel of the Kingdom? How many people would benefit from your wealth?
Beloved, when you pray, connect your requests to the benefits of the Kingdom and humanity; you would be shocked to see how God would deck your life with His blessings.
Support the Good work on this Blog Donate in $ God Bless you
[jetpack_subscription_form title="GET FREE UPDDATE VIA EMAIL" subscribe_text="JOIN OTHER CHRISTIANS GET UPDATE BY EMAIL" subscribe_button="Sign Me Up" show_subscribers_total="1"]
REMEMBER THIS: When God's principles are upheld, His products are accessed.
ASSIGNMENTS:
1. Do not pray for yourself only; make intercessions for God's Kingdom, the nation and others a continual assignment.
2. When making demands from God, let the Kingdom of God be your major focus. RF: Samuel's mother (1 Samuel 1:11).
PRAYER: O Lord, I ask for the grace to be selfless. Open my eyes, Lord, to see the needs of people and pray for them accordingly, in Jesus Name.
FOR FURTHER UNDERSTANDING, GET THIS MESSAGE: HINDRANCES TO ANSWERED PRAYERS.
QUOTE: Prayer deepens your intimacy with God. As you press into God at the place of prayer, you begin to see things from the level of God. Culled from PRINCIPLES AND POWER OF PRAYER by Dr Paul Enenche
DAILY READING: 1 Chronicles 12:19 to 14:17, Romans 1:1 to 17, Psalm 9:13 to 20, Proverbs 19:4 to 5.
AMAZING FACT: A day on Venus lasts longer than a year on earth.
TODAY IN HISTORY: 12/12/1808 – First Bible Society was organized and known as the Bible Society of Philadelphia.