The seed of Destiny Saturday 22 December 2018
SATURDAY, DECEMBER 22, 2018 THE SEEDS OF DESTINY DAILY DEVOTIONAL BY DR. PASTOR PAUL ENENCHE
SCRIPTURE: For thou, Lord, wilt bless the righteous; with favour wilt thou compass him as with a shield. Psalm 5:12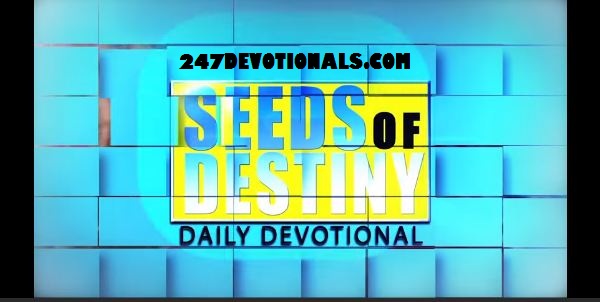 THOUGHT FOR THE DAY: Whatever attacks your conscience attacks your blessing.
From our anchor Scripture, we see that God is eternally and committed to the blessing of the righteous. To be righteous, therefore, is to be blessed. In other words, the righteous cannot escape the Blessing of God.
Now, for the Blessing to be released on the righteous, there are conditions the righteous must meet. Let me give you three of such conditions:
1. Avoidance of Defilement: To be blessed, defilement must be avoided. Whatever defiles a person destroys the blessing. Whatever attacks your conscience attacks your blessing (Psalm 119:1-2).
2. Walking in the Law of God: To be blessed, you must walk in the Law of the Lord. The Word of God must guide our steps and not the opinion of people, the feelings of the flesh or the approval of society (Psalm 94:12; Psalm 119:1-2).
3. Keeping His Testimonies: To be blessed is to keep His testimonies. Do not take the Acts of God in your life for granted, otherwise, the blessings stops flowing (Psalm 119:1-2).
Now, how does God bless the righteous?
1. The Righteous does not beg to be blessed
It is natural for the righteous to be blessed. People like Abraham, Daniel, Esther etc., who stood for God were the most blessed in their generation (Psalm 5:12).
2. The Blessing is in the agenda of God for the righteous
The Blessing is in the package of redemption paid for by Jesus Christ on the Cross (Revelations 5:12). https://247devotionals.com/category/seeds-of-destiny/ 
Support the Good work on this Blog Donate in $ God Bless you
[jetpack_subscription_form title="GET FREE UPDDATE VIA EMAIL" subscribe_text="JOIN OTHER CHRISTIANS GET UPDATE BY EMAIL" subscribe_button="Sign Me Up" show_subscribers_total="1"]
Today, I declare that the Blessing secured in the shed Blood of Jesus on Calvary is released upon you, in Jesus' Name.
REMEMBER THIS: Whatever attacks your conscience attacks your blessing.
ASSIGNMENTS:
1. Endeavour to walk with God in the covenant in order to attract the Blessing of God.
2. Live in uprightness; avoid sin and guilt
PRAYER: O Lord, I thank You for Your Word to me today. I ask that You release Your Blessings that will swallow up every curse in my life, Lord in Jesus' Name.
FOR FURTHER UNDERSTANDING, GET THIS MESSAGE: THE BLESSING OF THE RIGHTEOUS
QUOTE: The more you walk in love, the more like God you become and the more victory you will experience on the earth. Culled from REASON FOR LIVING by Dr Paul Enenche
DAILY READING: 2 Chronicles 6:12 to 8: 10, Romans 7:14 to 8:8, Psalm 17:1 to 15, Proverbs 19:24 to 25.
AMAZING FACT: Your brain does not feel pain, it has no pain receptors.
TODAY IN HISTORY: 22/12/1989 – Chad adopted its Constitution.