Seed Of Destiny Devotional 27 March 218 by Dr Paul Eneche
TOPIC: THE ENEMIES OF PURPOSE
THOUGHTS FOE THE DAY: Laziness is a destroyer of destiny
SCRIPTURE: See then that ye walk circumspectly, not as fools, but as wise, Redeeming the time, because the days are evil. Ephesians 5:15-16.
The Scriptures make it clear that God is God of plan and purpose. He created you for a purpose; His desire is that you should live your life to the fullness of purpose.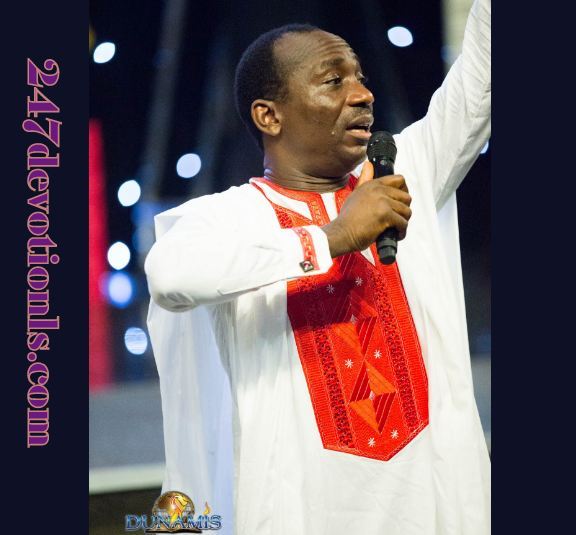 Seed Of Destiny Devotional 27 March 218 by Dr Paul Eneche
However, there are enemies of purpose and destiny that try to prevent someone from fulfilling destiny; these enemies have crippled the destinies of many people. It is very important to look at them in order to deal with them and fulfil destiny. These enemies are:
i) The lifestyle of disobedience or rebellion to God.
ii) The spirit of fear; the fear of the future or the unknown.
iii) The lifestyle of greed; the love of money is a crippler of destiny.
iv) The lack of self-control or the lack of discipline.
v) The spirit of depression and discouragement.
vi) The lifestyle of strife, bitterness and unforgiveness.
vii) Disregard for authority; refusal to stay under an authority is disastrous.
viii) The spirit of inferiority/low self-esteem.
ix) The lifestyle of immorality.
x) Wrong company or association.
xi) The spell of idleness or indolence; laziness is a destroyer of destiny.
xii) The lifestyle of falsehood; Insincerity is a crippler of destiny.
xiii) Disregard for Divine direction.
xiv) The spell of visionlessness or aimlessness.
xv) The lifestyle of pride or arrogance.
Beloved, make up your mind not to be a victim of the enemies of destiny listed above.
REMEMBER THIS: Laziness is a destroyer of destiny.
ASSIGNMENTS:
1. Go through today's message once again.
2. Guard against the enemies of destiny in order to fulfil your destiny.
PRAYER: LORD, I receive the grace to resist every hindrance to my fulfilment in life. Help me to walk according to Your precept LORD, In Jesus' Name.
FURTHER UNDERSTANDING, GET THIS MESSAGE TO: DEADLY ENEMIES OF DESTINY (PART 1).
DAILY READING: Deuteronomy 7:1 to 8:20, Luke 7:36 to 8:3, Psalm 69:1 to 18, Proverbs 12:1.
QUOTE: Someone with a character capital has future, even if he does not have money. Culled from 21 FOOLISH THINGS PEOPLE DO by Dr Paul Enenche.
AMAZING FACT: Eagles can see five basic colours and can detect UV light.
TODAY IN HISTORY: 27/03/1863 – American Confederate President Jefferson Davis calls this to be a day of fasting & prayer.
DON'T FORGET TO ATTEND: The Power Communion Services tomorrow by 4:45pm and 6:30pm for the preservation of your life and destiny. Invite your friends and loved ones.
SEEDS OF DESTINY IN FRENCH:
SEMENCE DE DESTINEE
MARDI, LE 27 MARS 2018
THEME: LES ENNEMIS DE VOTRE MISSION DANS LA VIE
LES SAINTES ECRITURES: Prenez donc garde de vous conduire avec circonspection, non comme des insensés, mais comme des sages; rachetez le temps, car les jours sont mauvais. Éphésiens 5: 15-16.
PENSÉE DU JOUR: La paresse est un destructeur du destin.
Les Saintes Ecritures montrent clairement que notre Dieu est un Dieu qui planifie les choses selon un but précis. Il vous a créé pour un but; Son désir est que vous puissiez vivre votre vie dans la plénitude de votre mission, ou du but pour lequel vous existez.
Cependant, il y a des ennemis du destin qui œuvrent pour empêcher les gens d'accomplir leur destin; ces ennemis ont paralysé les destins de beaucoup de personnes. Il est donc très important d'examiner ces ennemis du destin, pour savoir comment les gérer et accomplir son destin.
Ces ennemis sont:
i) La désobéissance ou la rébellion contre Dieu.
ii) L'esprit de peur : la peur du futur ou de l'inconnu.
iii) La cupidité : l'amour de l'argent est un ennemi qui paralyse le destin.
iv) Le manque de maîtrise de soi ou le manque de discipline.
v) L'esprit de dépression et de découragement.
vi) La vie de conflits, l'amertume et le manque de pardon.
vii) Le fait de ne pas tenir compte de l'autorité : le refus d'être sous la supervision d'une autorité est désastreux.
viii) Le complexe d'infériorité / Le fait de se sous-estimer.
ix) Le fait de vivre dans l'immoralité.
x) La mauvaise compagnie ou association.
xi) L'oisiveté ou l'indolence : la paresse est un destructeur du destin.
xii) La vie de mensonge : le manque de sincérité est un ennemi qui handicape le destin.
xiii) Le mépris de la direction divine.
xiv) Le sortilège d'une vie sans vision ni but à atteindre.
xv) La fierté ou l'arrogance.
Bien-aimés, prenez la décision de ne pas être une victime des ennemis du destin énumérés ci-dessus.
Rappelez-vous ceci: La paresse est un destructeur du destin.
DEVOIRS
1. Révisez le message d'aujourd'hui.
2. Gardez-vous de l'influence des ennemis du destin cités ci-dessus, afin d'accomplir votre destin.
PRIERE: Seigneur, je reçois la grâce de résister à tout ce qui peut constituer un obstacle à mon accomplissement dans la vie. Aide-moi à marcher selon Tes préceptes, au Nom de Jésus.
LECTURE QUOTIDIENNE: Deutéronome 7: 1 à Deutéronome 8: 20, Luc 7 :36 à Luc 8: 3, Psaumes 69: 1 à 18, Proverbes 12: 1.
CITATION: Celui qui a un capital 'bon caractère' a de l'avenir, même s'il n'a pas d'argent. Extrait du livre : 21 CHOSES INSENSEES QUE LES GENS FONT, du Dr Paul Enenche.
FAIT SURPRENANT: Les aigles peuvent voir cinq couleurs de base et peuvent détecter la lumière UV.
AUJOURD'HUI DANS L'HISTOIRE: Le 27 mars 1863 – Le Président de la Confédération Américaine, Jefferson Davis, a institué le 23 mars de chaque année, comme un jour de jeûne et de prière.
SEEDS OF DESTINY IN SPANISH:
SEMILLA DE DESTINO
Support the Good work on this Blog Donate in $ God Bless you
[jetpack_subscription_form title="GET FREE UPDDATE VIA EMAIL" subscribe_text="JOIN OTHER CHRISTIANS GET UPDATE BY EMAIL" subscribe_button="Sign Me Up" show_subscribers_total="1"]
MARTES, 27 DE MARZO DE 2018.
TEMA: LOS ENEMIGOS DE PROPÓSITO.
LA ESCRITURA: Mirad, pues, cómo andéis avisadamente; no como necios, mas como sabios; Redimiendo el tiempo, porque los días son malos. EFESIOS 5:15-16.
PENSAMIENTO PARA EL DÍA: La pereza es un destructor del destino.
Las Escrituras dejan en claro que Dios es Dios de plan y propósito. Él lo creó a usted para un propósito; el deseo de Él es que usted debe vivir su vida a la plenitud del propósito.
Sin embargo, hay enemigos de propósito y destino que intentan evitar que alguien cumpla su destino; estos enemigos han paralizado los destinos de muchas personas. Es muy importante verlos para tratar con ellos y así poder cumplir el destino.
Estos enemigos son:
i. El estilo de vida de desobediencia o rebelión a Dios.
ii. El espíritu de miedo; el miedo al futuro o lo desconocido.
iii. El estilo de vida de codicia; el amor al dinero es un devastador del destino.
iv. La falta de autocontrol o la falta de disciplina.
v. El espíritu de depresión y desaliento.
vi. El estilo de vida de conflicto, amargura y falta de perdón.
vii. Falta respeto a la autoridad; el rechazo a permanecer bajo una autoridad es desastroso.
viii. El espíritu de inferioridad / baja autoestima.
ix. El estilo de vida de la inmoralidad.
x. Amistad o asociación incorrecta.
xi. El hechizo de pereza o indolencia; la pereza es un destructor del destino.
xii. El estilo de vida de falsedad; La falta de sinceridad es un impedimento para el destino.
xiii. Ignorar la dirección divina.
xiv. El hechizo de la falta de visión o la falta de objetivo.
xv. El estilo de vida de orgullo o arrogancia. Amado, tome la decisión de no ser una víctima de los enemigos del destino enumerados arriba.
Recuerde esto: La pereza es un destructor del destino.
TAREA(S): 1. Repase el mensaje de hoy una vez más.
2. Cuídese de los enemigos del destino para así poder cumplir su destino.
ORACIÓN: SEÑOR, recibo la gracia de resistir cualquier obstáculo a mi realización en la vida. Ayúdame a caminar de acuerdo con Tu precepto, SEÑOR, en el Nombre de Jesús.
PARA MEJOR ENTENDIMIENTO, CONSIGA ESTE MENSAJE: ENEMIGOS MORTALES DEL DESTINO (PARTE 1).
CITA: Alguien dotado con un capital de carácter tiene futuro, incluso si no tiene dinero. Tomado de "21 COSAS TONTAS QUE HACE LA GENTE" por el Dr. Paul Enenche.
LECTURA DIARIA: Deuteronomio 7:1 a 8:20, Lucas 7:36 a 8:3, Salmos 69:1 a 18, Proverbios 12:1.
Hoy en la Historia: 27/03/1863 – El Presidente Americano Confederado Jefferson Davis, llama este día a ser un día de ayuno y oración.
HECHO SORPRENDENTE: Las águilas pueden ver cinco colores básicos y pueden detectar la luz ultravioleta.