RCCG Sunday School TEACHER's Manual 19 January 2020 Lesson 21 – Longevity
Click HERE for Previous RCCG Sunday School Teacher's Manual
TOPIC: Longevity
OPENING PRAYER: Father, satisfy me with long life in good health. (Scroll down for RCCG Sunday School 19 January 2020 HYMN)
BIBLE PASSAGE: Psalms 91:14-16 KJV (RCCG Sunday School TEACHER's Manual 19 January 2020)
14 Because he hath set his love upon me, therefore will I deliver him: I will set him on high, because he hath known my name.
15 He shall call upon me, and I will answer him: I will be with him in tro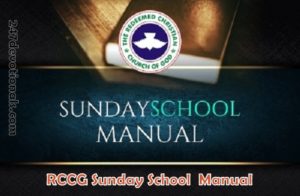 uble; I will deliver him, and honour him.
16 With long life will I satisfy him, and shew him my salvation.
MEMORY VERSE: "For by me thy days shall be multiplied, and the years of thy life shall be increased." – Proverbs 9:11
LESSON INTRODUCTION: Longevity is most commonly used to describe the length of one's life-time. The word of God gives us straight forward principles that will enable us to enjoy long life on earth. Believers should note that as much as God wants us to live long on earth, He equally desires that we live a quality life (John 10:10b).
TEXT REVIEW: Psalms 91:14-16.
In today's Bible passage, the Psalmist highlights some crucial rewards for anyone who genuinely loves God.
A. God will always deliver him from evil or dangers. v.14a
B. God will set him on high (in a place of honour). v.14b
C. When he calls (cries) to God:
i. …………………………………………….. v.15a
ii. ……………………………………………. v.15b
iii. …………………………………………… v.15c
iv. …………………………………………… v.15d
D. God will also:
i. ……………………………………………. v.16a
ii. …………………………………………… v.16b
2 LESSON OUTLINES
LESSON OUTLINE 1: BIBLICAL PRINCIPLES TO LONGEVITY
To live long, we must live by divine principles. Some of these principles are clearly stated in the bible. For instance:
i. It is important to fear God and keep His commands (Pro.3:1-2,7-8; 10:27)
Support the Good work on this Blog Donate in $ God Bless you
[jetpack_subscription_form title="GET FREE UPDDATE VIA EMAIL" subscribe_text="JOIN OTHER CHRISTIANS GET UPDATE BY EMAIL" subscribe_button="Sign Me Up" show_subscribers_total="1"]
ii. Positive confession supported with a disciplined lifestyle is another key (Pro.18: 21; 1 Peter 3:10; Col.4:6).
iii. Aside spiritual empowerment, fasting can also boost one's health a and prolong life (Isa. 58:5-8).
iv. The bible also talks about honouring our parents as a secret of longevity (Pro.4:10; Eph.6:1-3; Ex.20:12).
v. In addition, we need to have a balanced lifestyle. Everything may be permissible, but not everything is beneficial (1Cor.10:23; 1Cor.6:19).
vi. Eating nutritious food, exercising regularly, observing good rest and avoiding stress constitute some of the other ways to have a balanced lifestyle.
CLASS ACTIVITY 1: Students should mention some lifestyles or habits that can cut short people's lives in this dispensation.
LESSON OUTLINE 2: WHAT CONSTITUTES A QUALITY LIFE?
A. There are biblical examples of those who lived long.
i. Moses lived for 120 years (Deut. 31:2; 34:7)
ii. Abraham – 175 years (Gen.25:7).
iii. Enoch – 363 years (Gen.5:23).
iv. Sarah – 127 years (Gen. 23:1)
v. Noah – 950 years (Gen.9:29). etc.
B. However, it should be noted that neither Genesis 6:3 nor Psalm 90:10 is God-ordained age limits for humanity.
i. Gen.6:3 is a prediction of the timetable for the flood.
ii. Psalm 90:10 is simply stating that as a general rule, people live 70-80 years (which is still true till today).
C. Believers should know that:
i. Living long is good but the quality of such life is equally important ( Psa.92:13-14; Jer.29:11).
ii. We should live purposefully (in service to God and to humanity) in fulfillment of God's plan for our lives.
CLASS ACTIVITY 2: Students should mention the essence of long life for believers.
SUMMARY: The essence of long life for is to have enough opportunity to fulfill the divine purpose for our existence on earth.
CONCLUSION: Not only does God want each one of us to have long life, but also to have a life of abundance spiritually, emotionally and physically (John 10:10).
EVALUATION: Students should mention four biblical principles to longevity.
CLOSING PRAYER: Father, give me the grace to accomplish all that You appointed for me on earth before I die.
ASSIGNMENT: Mention five (5) things that can boost (add to) the value or quality of the life of a believer.
RCCG Sunday School HYMN
O Sunday School, on the Lord's day,
O how I love Thee well,
I am happy, it makes me glad
To rejoice at Thy birth.
O Sunday School, on the Lord's day, Thy friendship suits me well,
Both young and old will sing Thy song,
We long for Sunday School.
O Sunday School, on the Lord's day,
Christ was Thy first teacher,
The Holy Spirit, great teacher,
Does manifest in thee.
O Sunday School, on the Lord's day,
This testimony is sure,
That God, the Father Almighty,
Poured His blessing on Thee.
O Sunday School, on the Lord's day,
Though the sun be so bright,
Or if the clouds black with rain,
I'll be in Sunday School.
O Sunday School, on the Lord's day,
I rejoice to see Thee,
Will thou pass over me today?
Without my being blest?