P.U.S.H. – Day 20 Saturday April 3rd Thanksgiving for Answered Prayers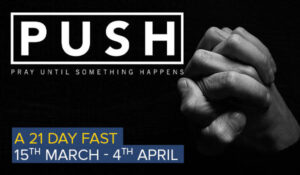 Day 20 – Thanksgiving for Answered Prayers
Insist that your faith will not waver or stagger at the promises of God. You remain strong in the faith like Abraham, fully persuaded and convinced that God has answered and that He will perform His word.
Romans 4:20-21
He staggered not at the promise of God through unbelief, but was strong in faith, giving glory to God, being fully persuaded that God had power to do what he had promised.
1 Thessalonians 5:24
Faithful is he that calleth you, who also will perform it.
Pray for maturity in knowledge, wisdom and humility to handle and rightly appropriate the blessing of God that He brings into your life.
Galatians 4:1
Now I say that the heir, as long as he is a child, does not differ at all from a slave, though he is master of all,
2 Peter 3:18
But grow in grace, and in the knowledge of our Lord and Saviour Jesus Christ. To him be glory both now and for ever. Amen.
Support the Good work on this Blog Donate in $ God Bless you
[jetpack_subscription_form title="GET FREE UPDDATE VIA EMAIL" subscribe_text="JOIN OTHER CHRISTIANS GET UPDATE BY EMAIL" subscribe_button="Sign Me Up" show_subscribers_total="1"]
Pray that you will rightly discern and be fully aware of your blessing when it comes; you will not mis-judge with your physical eyes, but through the eyes of the spirit discern what is yours.
1 Corinthians 5:7
For We walk by faith and not by sight.
1 Samuel 16:7
But the LORD said unto Samuel, Look not on his countenance, or on the height of his stature; because I have refused him: for the LORD seeth not as man seeth; for man looketh on the outward appearance, but the LORD looketh on the heart.
DECLARATION:
We declare in faith that we have an unfathomable harvest of answers to all prayers, intercession, petition and supplications made in this season of PUSH, in the name of Your Son, Jesus Christ, our Lord, AMEN!
1 John 5:14-15
Now this is the confidence that we have in Him, that if we ask anything according to His will, He hears us. And if we know that He hears us, whatever we ask, we know that we have the petitions that we have asked of Him.