Topic: Divine Chastisement
(Open Heaven 16 February 2019)
Memorise: "But if ye be without chastisement, whereof all are partakers, then are ye bastards, and not sons."- Hebrews 12:8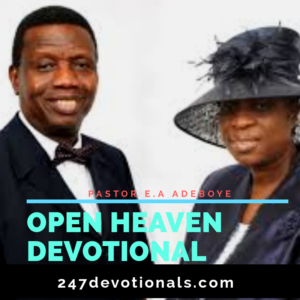 Read: Jeremiah 30:12-17 (KJV)
12 For thus saith the LORD, Thy bruise is incurable, and thy wound is grievous.
13 There is none to plead thy cause, that thou mayest be bound up: thou hast no healing medicines.
14 All thy lovers have forgotten thee; they seek thee not; for I have wounded thee with the wound of an enemy, with the chastisement of a cruel one, for the multitude of thine iniquity; because thy sins were increased.
15 Why criest thou for thine affliction? thy sorrow is incurable for the multitude of thine iniquity: because thy sins were increased, I have done these things unto thee.
16 Therefore all they that devour thee shall be devoured; and all thine adversaries, every one of them, shall go into captivity; and they that spoil thee shall be a spoil, and all that prey upon thee will I give for a prey.
17 For I will restore health unto thee, and I will heal thee of thy wounds, saith the LORD; because they called thee an Outcast, saying, This is Zion, whom no man seeketh after.
Bible in One Year: John 14-15, Isaiah 40:27-41:13
Open Heaven 16 February 2019 Saturday MESSAGE:
Divine chastisement is a loving and corrective form of training which leads to godliness, maturity and responsibility. Through it, God trains His people to obey Him. The purpose of divine discipline is to build a community of faithful and loyal Christians who are committed to totally obeying the word of God and are constantly working to please Him. If you are one of those who believe that God's discipline is unkind, unloving, unfair and difficult, consider the word in Hebrews 12:11, which says:
"Now no chastening for the present seemeth to be joyous, but grievous: nevertheless afterward it yieldeth the peaceable fruit of righteousness unto them which are exercised thereby."
Support the Good work on this Blog Donate in $ God Bless you
[jetpack_subscription_form title="GET FREE UPDDATE VIA EMAIL" subscribe_text="JOIN OTHER CHRISTIANS GET UPDATE BY EMAIL" subscribe_button="Sign Me Up" show_subscribers_total="1"]
Although to be chastised by God may be unpleasant experiences which more often than not result in anguish and pain, it invariably produces the fruits of righteousness in those who endure it. For this reason, the Holy Spirit encourages us not to despise divine discipline or reject God's correction, because they are acts through which God demonstrates His love towards anyone that is saved (Hebrews 12:5-6). Proverbs 3:11-12 tells us that chastisement is an expression of love which God reserves only for those whom He delights in. In other words, whenever God reproves and chastises us, we can be certain that He is treating us as a father would treat a beloved child. Discipline should therefore not be viewed as an act of vengeance or hatred. Hebrews 12:7-8 admonishes us to endure discipline as an acceptance of God's love towards us, because anyone left out of the Father's correction is an illegitimate child. Chastisement therefore, is evidence of God's love for His people.
In conclusion, meditate on the words of Job 36:10-12, saying:
"10 He openeth also their ear to discipline, and commandeth that they return from iniquity. 11 If they obey and serve him, they shall spend their days in prosperity, and their years in pleasures. 12 But if they obey not, they shall perish by the sword, and they shall die without knowledge."
Submit to divine discipline today, and God will ensure that you spend the rest of your life in joy, peace and prosperity.
Open Heaven 16 February 2019 Saturday Prayer Point:
Father, please, don't ever withdraw Your discipline from me, and grant me grace to accept your correction in Jesus' Name.
Open Heaven 16 February 2019 Saturday Hymn 3: Trust And Obey
1. When we walk with the Lord in the light of His Word,
What a glory He sheds on our way!
While we do His good will, He abides with us still,
And with all who will trust and obey.
Chorus:
Trust and obey, for there's no other way
To be happy in Jesus, but to trust and obey.
2. Not a shadow can rise, not a cloud in the skies,
But His smile quickly drives it away;
Not a doubt or a fear, not a sigh or a tear,
Can abide while we trust and obey.
3. Not a burden we bear, not a sorrow we share,
But our toil He doth richly repay;
Not a grief or a loss, not a frown or a cross,
But is blessed if we trust and obey.
4. But we never can prove the delights of His love
Until all on the altar we lay;
For the favor He shows, for the joy He bestows,
Are for them who will trust and obey.
5. Then in fellowship sweet we will sit at His feet,
Or we'll walk by His side in the way;
What He says we will do, where He sends we will go;
Never fear, only trust and obey.