Topic: Circumcision of the Heart
(Open Heaven 10 August 2019)
Memorise: "Ye stiffnecked and uncircumcised in heart and ears, ye do always resist the Holy Ghost: as your fathers did, so do ye." – Acts 7:51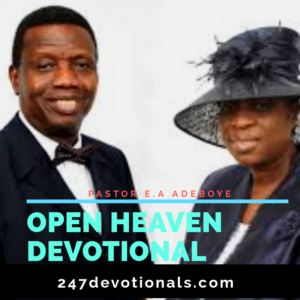 Read: Acts 2:36-41 (KJV)
36 Therefore let all the house of Israel know assuredly, that God hath made that same Jesus, whom ye have crucified, both Lord and Christ.
37 Now when they heard this, they were pricked in their heart, and said unto Peter and to the rest of the apostles, Men and brethren, what shall we do?
38 Then Peter said unto them, Repent, and be baptized every one of you in the name of Jesus Christ for the remission of sins, and ye shall receive the gift of the Holy Ghost.
39 For the promise is unto you, and to your children, and to all that are afar off, even as many as the Lord our God shall call.
40 And with many other words did he testify and exhort, saying, Save yourselves from this untoward generation.
41 Then they that gladly received his word were baptized: and the same day there were added unto them about three thousand souls.
Bible in One Year: 1 Samuel 8-9, Ezekiel 32:1-15
Open Heaven 10 August 2019 Saturday MESSAGE:
Circumcision of the heart speaks of internal consecration to godliness. It implies deep reverence for God which produces a practical awareness of Him in every aspect of one's life, bringing about the desire to always do His will. Circumcision of the heart permeates every aspect of a person's life, including appearance, speech and actions. A circumcised or consecrated person will always transmit and radiate godliness, so much so that anyone who comes in contact with him or her will immediately feel the presence of God. Just as God mandated the Israelites to be circumcised in their bodies and hearts before approaching His tabernacle (Ezekiel 44:9), those who are members of the Body of Christ have the responsibility of keeping anything that is abominable or polluting away from God's holy altar in their hearts. Speaking on this, Titus 2:11-12 says:
"11 For the grace of God that bringeth salvation hath appeared to all men, 12 Teaching us that, denying ungodliness and worldly lusts, we should live soberly, righteously, and godly, in this present world;"
Furthermore, circumcision of the heart indicates the level of consecration or sanctification of a child of God (Romans 2:29). The Bible in a few cases used the term "walking with God" to reflect the level of consecration of some fathers of faith. One example is Enoch, of whom the Bible in Genesis 5:24 says:
"And Enoch walked with God: and he was not; for God took him."
Support the Good work on this Blog Donate in $ God Bless you
[jetpack_subscription_form title="GET FREE UPDDATE VIA EMAIL" subscribe_text="JOIN OTHER CHRISTIANS GET UPDATE BY EMAIL" subscribe_button="Sign Me Up" show_subscribers_total="1"]
Noah is another example of one who walked with God in perfection (Genesis 6:9). Other great examples include Simeon and Anna (Luke 2:25, Luke 2:37). Their lives teach us that our hearts must be circumcised if we are to know God and be known by Him.
One characteristic of a circumcised heart is contentment (1 Timothy 6:6). God expects His children to be pleased with whatever He has blessed them with spiritually, physically, financially and materially. The Bible also teaches that godly sorrow for sins committed is another sign of a circumcised heart (Joel 2:13). A circumcised heart produces a godly life whose benefits cannot be over emphasized. 1 Timothy 4:8 tells us that godliness is profitable unto all things, both in this life and in eternity. Today's memory verse states that the uncircumcised in heart have the habit of always resisting the Holy Spirit. In other words, an uncircumcised heart is at the root of all acts of disobedience and apostasy among children of God. Is your heart circumcised?
Open Heaven 10 August 2019 Saturday Prayer Point:
Father, please circumcise my heart and make me obedient to Your word in Jesus' Name.
Open Heaven 10 August 2019 Saturday Hymn 12: Deeper, Deeper In The Love Of Jesus
1 Deeper, deeper in the love of Jesus
Daily let me go;
Higher, higher in the school of wisdom,
More of grace to know.
Chorus:
Oh, deeper yet, I pray,
And higher every day,
And wiser, blessed Lord,
In Thy precious, holy Word.
2 Deeper, deeper, blessed Holy Spirit,
Take me deeper still,
Till my life is wholly lost in Jesus,
And His perfect will.
3 Deeper, deeper! though it cost hard trials,
Deeper let me go!
Rooted in the holy love of Jesus,
Let me fruitful grow.
4 Deeper, higher, every day in Jesus,
Till all conflict past,
Finds me conqu'ror, and in His own image
Perfected at last.
5 Deeper, deeper in the faith of Jesus,
Holy faith and true;
In His pow'r and soul exulting wisdom
Let me peace pursue.