Topic:Are You Hungry Now?
Bible in a Year :
Job 20–21; Acts 10:24–48
What good is it, my brothers and sisters, if someone claims to have faith but has no deeds?
James 2:14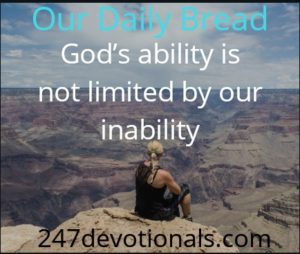 Thomas knew what he needed to do. Having been born to a poor family in India and adopted by Americans, upon a return trip to India he witnessed the dire needs of the children in his hometown. So he knew he had to help. He began making plans to return to the US, finish his education, save a lot of money, and come back in the future.
Then, after reading James 2:14–18 in which James asks, "What good is it . . . if someone claims to have faith but has no deeds?" Thomas heard a little girl in his native country cry out to her mother: "But Mommy, I'm hungry now!" He was reminded of the times he had been intensely hungry as a child—searching through trash cans for food. Thomas knew he couldn't wait years to help. He decided, "I'll start now!"
Today the orphanage he began houses fifty well-fed and cared-for children who are learning about Jesus and getting an education—all because one man didn't put off what he knew God was asking him to do.
Support the Good work on this Blog Donate in $ God Bless you
[jetpack_subscription_form title="GET FREE UPDDATE VIA EMAIL" subscribe_text="JOIN OTHER CHRISTIANS GET UPDATE BY EMAIL" subscribe_button="Sign Me Up" show_subscribers_total="1"]
James's message applies to us as well. Our faith in Jesus Christ provides us with great advantages—a relationship with Him, an abundant life, and a future hope. But what good is it doing anyone else if we don't reach out and help those in need? Can you hear the cry: "I'm hungry now"?