Topic:Go When You're Ready
Gloria Copeland
With long life will I satisfy [you], and show [you] my salvation.
Psalm 91:16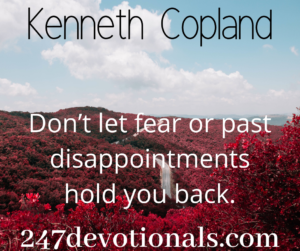 Did you know that it's not God's will for you or anyone to die young? His will for you is to live the full number of your days. You ought to live 70 or 80 years, and if you are not satisfied, live awhile longer! The Bible says that when Abraham died, he died at a good old age, full of years. That's the way it ought to be with all of us.
Some believers don't realize that and they've gotten themselves in a mess. When they get sick, instead of just believing for healing, they start wondering if it's God's will for them to die. Maybe He's ready to call me home, they think.
Don't ever entertain thoughts like that. If God has His way, He won't call you home until you're good and ready to come. The Apostle Paul understood that. In 2 Timothy 4:6-7, he said, "For I am now ready to be offered, and the time of my departure is at hand. I have fought a good fight, I have finished my course, I have kept the faith." Paul didn't die until he and Jesus were ready for him to go.
Regardless of your age, if the devil is telling you God isn't going to heal you because it's time for you to go home, he is lying to you. God promises in Psalm 91:16 that if you are living under the shadow of the Most High, He will satisfy you with long life. (That means that you are abiding in Him as Jesus taught in John 15.)
Support the Good work on this Blog Donate in $ God Bless you
[jetpack_subscription_form title="GET FREE UPDDATE VIA EMAIL" subscribe_text="JOIN OTHER CHRISTIANS GET UPDATE BY EMAIL" subscribe_button="Sign Me Up" show_subscribers_total="1"]
If you're not satisfied that you have finished your course yet on this earth, it's not time for you to die. So ignore the devil and keep right on living. Resist sickness and disease in the Name of Jesus. Stand on God's promise!
Then, when you're ready to go on to heaven, go! But go satisfied, healed and ready! Go in victory shouting the words of that old joy-filled song—"Heaven is near and I can't stay here. Goodbye world, goodbye."
Scripture Reading:
Deuteronomy 34