Topic:Ishmael must leave!
READ THE SCRIPTURE: GENESIS 21: 8-13
Then God said to Abraham: "Do not worry about the boy or your maidservant. Listen to everything Sara tells you, because in Isaac you will be called offspring. "
Genesis 21:12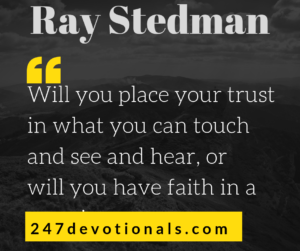 If Isaac represents the joyful fullness of the fruit of the Spirit, Ishmael represents some pampered manifestation of our own selfish life in which we find comfort and delight and which we do not want to renounce. Some people give value to what they have been suspecting for a long time that it is not what God would have wanted, but that they were reluctant to give up. Maybe it is some custom that we have been dragging for a long time and that we have been defending. There may be customs or values ​​in our lives that are actually some form of self-indulgence. God may allow them for a time, but the time will come when he will say: "You must get rid of them."
God says that Ishmael could never share the inheritance with Isaac. This is exactly what Jesus meant when he said: "What is born of the flesh is flesh; and what is born of the Spirit, spirit is "(John 3: 6). When the time comes when we should stand before the Lord on the throne of Christ's judgment, our lives will be classified into two different areas: the works of wood, hay and straw, which are of the flesh, and those of gold, silver and precious stones, which are of the Spirit (see 1 Corinthians 3: 10-15). The Lord tells us how he told Abraham: "Ishmael must go." If you refuse to expose, examine and eliminate what is born of the flesh, although God has said that it will hurt you and has shown you peace, joy and love, which are the fruits of the Spirit,
Dr. Barnhouse once wrote: "At the beginning of my ministry, I had the idea that I should attack every error wherever I found it … if the mistake was in some fundamental leader with whom I agreed on a 95 %, attacked with harshness that remaining 5% ". This made Dr. Barnhouse a very controversial figure, often lacking in mercy, hard and dogmatic. This zeal for the truth became an Ishmael in his life. Next, he tells how a time came when the Spirit of God taught him to love, and he faced the decision, that is, letting Ishmael go. He had to learn to be more understanding and more tolerant of some of the different points of view of other people.
He wrote: "Some time ago, I published a New Year's resolution expressing the fact that I regretted having had differences with men who were truly born again. The results of this resolution were amazing. In the years following its publication, my ministry was transformed. " The final years of his life show the way he became more tender and the sweetness of the fruit of the Spirit in that which had previously been so hard, critical and demanding.
Support the Good work on this Blog Donate in $ God Bless you
[jetpack_subscription_form title="GET FREE UPDDATE VIA EMAIL" subscribe_text="JOIN OTHER CHRISTIANS GET UPDATE BY EMAIL" subscribe_button="Sign Me Up" show_subscribers_total="1"]
I do not know what form Ismael is taking in his life, but I know there are times when God tells us, simply, that this must be done away with. The manifestation of the life of the Spirit can not continue until this is resolved. Abraham obeyed. Early in the morning, he got up, took bread and a skin of water, and although he suffered great suffering, he ordered Hagar and Ishmael to leave, so that he might have the fullness of the Spirit of life in Christ Jesus.
Lord, I ask you that I can sincerely yearn to be a fully surrendered vessel of Your joy, Your strength and Your peace. I ask you to have the grace to cast off Ishmael and find the fullness and joy of Isaac.
Application to life
The old ways and ways of thinking can become comfortable. Do we respond obediently when God asks us to get rid of them so that our inner healing can produce a lasting joy?