Topic: Fear God [DCLM Daily Manna 13 May 2019 Daily Devotional by Pastor William Folorunso Kumuyi]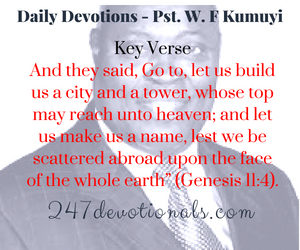 Text: Luke 12:1-12 (KJV) DCLM Daily Manna 10 May 2019 – Does It Hurt?
Key Verse: " "But I will forwarn you whom ye shall fear; Fear him, which after he hath killed hath power to cast into hell; yea, I say unto you, Fear him" (Luke 12:5).
MESSAGE:
A Christian job-seeker was invited for an aptitude test by a company which Human Resources Officer (HRO) was a Christian too. The subject of his application was a plum job with a mouth-watering remuneration. Testing his integrity and honesty, the HRO asked the applicant if he would be ready to identify with the company's sharp practices. In his fear of losing the much desired and promising job, the Christian applicant compromised his faith, backslid and quickly jumped at the ungodly proposal by the HRO.
However, the applicant was greatly disappointed at the reaction of the HRO who told him that the company would prefer other applicants who would not engage in such practices as he only painted this scenario to test his integrity and honesty. As it turned out, the applicant feared the HRO to get the job at the expense of the fear of God who was able to give him the job.
The text presents an impeccable fusion of warning and encouragement by our Lord Jesus Christ to His disciples as well as man. He encourages us also to trust in the power of God.
Support the Good work on this Blog Donate in $ God Bless you
[jetpack_subscription_form title="GET FREE UPDDATE VIA EMAIL" subscribe_text="JOIN OTHER CHRISTIANS GET UPDATE BY EMAIL" subscribe_button="Sign Me Up" show_subscribers_total="1"]
Hypocrisy portends and amplifies the unregenerate life of sinners and backsliders while fear of man is a destitution of faith in God's omnipotence. The fearful believer who will readily compromise his faith in Christ for fear of man or promises of material rewards as well as the adamant sinner shall end up in hell.
There are blessings in having the fear of God. He blessed Joseph, the Hebrew midwives and turned away His wrath from Nineveh because they all feared Him.
Thought For The Day: Fear God or dare Him to your own peril.
The Bible In One Year: 1 Corinthians 15-16
DCLM Daily Manna was written by Pastor William Folorunso Kumuyi; is the founder and General Superintendent of the Deeper Life Bible Church situated at KM 42 on the busy Lagos-Ibadan Expressway, Nigeria. DCLM Daily Manna 4 May 2019 – Lot Of The Wicked