Topic: In, And Out Of Season
[DCLM Daily Manna 1 June 2019 Daily Devotional by Pastor William Folorunso Kumuyi] Text: Acts 8:1-13 (KJV)
Key Verse: "Therefore they that were scattered abroad went everywhere preaching the word" (Acts 8:4).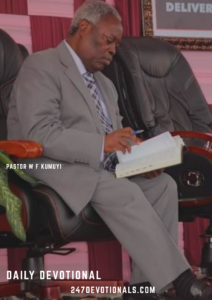 MESSAGE:
"Do you know grace?" that was the question the world-famous preacher D.L. Moody (1837-1899) was said to have posed to people he came in contact with. If the person did not know what he was talking about and asked, "Grace who?", Moody would sit down to explain the meaning of grace using various Bible references. It was an evangelism and soul-winning strategy that worked effectively. Many listened to his interpretation, explanation and application.
It took the church the death of Stephen and the persecution of Church to have apostles and disciples of Jesus to go abroad to preach the gospel everywhere. Philip escaped to Samaria, which recorded great conversion of souls with signs and wonders accompanying his ministration; unclean spirits came out of many, the possessed were set free, those with palsies and the lame were healed; even a notable sorcerer was converted. This brought great joy to the city.
Evangelism and soul-winning is every believer's ministry and should not be seen as the exclusive duty of pastors and church workers. It should be our highest priority as believers and our commitment to it must be total and wholesome. It should be done everywhere and at anytime. Our method of evangelism can take many forms which may involve conventional methods that can draw and retain the attention of a soul to what we have to say until we have finished the message.
Support the Good work on this Blog Donate in $ God Bless you
[jetpack_subscription_form title="GET FREE UPDDATE VIA EMAIL" subscribe_text="JOIN OTHER CHRISTIANS GET UPDATE BY EMAIL" subscribe_button="Sign Me Up" show_subscribers_total="1"]
Today, many believers find it difficult to preach the gospel because the response of the people are negative. To be effective, we must avoid mannerisms and appearance that can repel the honest seeker of the Word. We need to avoid being drawn into arguments. Believers who have assurance of salvation are the only hope in Christ for sinners in the world. No matter what sinners possess, like Simon the sorcerer, their eternal loss will cancel all their earthly gain. If we neglect to save the lost and they die in their sin, their blood shall be on us.
Thought For The Day: Signs and wonders are for those who go forth to preach.
The Bible In One Year: 1 Samuel 23-24