Topics: God
Look Deeply
By Billy Graham • June 16
Open my eyes to see wonderful things in your Word.
—Psalm 119:18 (TLB)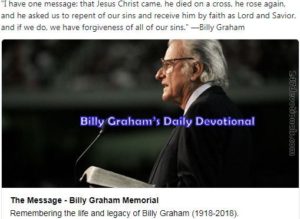 Some, who doubt that the Bible is the true Word of God, doubt it because they are unwilling to ascribe to God anything they cannot themselves achieve. If you have any uncertainty about the inspiration of the Bible, go back and look at it again. Look at it in the light of a person who has been staring at a mud puddle all his life, and who is confronted for the first time by a view of the ocean!
Perhaps you are only now catching your first glimpse of God's unlimited power. Perhaps you are only now beginning to understand Him for what He actually is. For if God is the Spirit that Jesus declares Him to be, there is no problem of providence, there is no problem of His sovereignty in the affairs of men, there is no problem of His inspiration of the men who wrote the Bible. Everything fits into place, once you understand who and what God really is.




How can you know the Bible is true? Here are 5 reasons to believe what it says.
Support the Good work on this Blog Donate in $ God Bless you
[jetpack_subscription_form title="GET FREE UPDDATE VIA EMAIL" subscribe_text="JOIN OTHER CHRISTIANS GET UPDATE BY EMAIL" subscribe_button="Sign Me Up" show_subscribers_total="1"]
The Bible helps us know God better, but how should you approach reading and understanding it?
Prayer for the day
My Father and my God, as I read the Scriptures each day, You open my eyes to more of the glories of Your wondrous love.