Topics: Lifestyle, Relationships
Pure in Heart
By Billy Graham
October 14
He that walketh righteously . . . shall dwell on high.
—Isaiah 33:15,16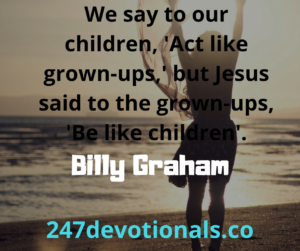 Being pure in conduct also includes honesty and integrity in dealing with our fellowmen. A Christian should be known in his neighborhood or place of business as an honest person, a person who can be trusted. Jesus said, "Blessed are the pure in heart." Do you want to be happy? All right, apply this Beatitude to your heart. Take it to yourself.
The pure in heart are the only ones who can know what it means to be supremely happy. Their hearts are pure toward God and, as a result are pure toward their fellowmen. They are happy because, in possessing Him who is All and in All, they envy no man's worldly goods. They are happy because they envy not another man's praise. Because they are the enemy of no man, they regard no man as their enemy. The result is peace with God and the world.
Support the Good work on this Blog Donate in $ God Bless you
[jetpack_subscription_form title="GET FREE UPDDATE VIA EMAIL" subscribe_text="JOIN OTHER CHRISTIANS GET UPDATE BY EMAIL" subscribe_button="Sign Me Up" show_subscribers_total="1"]
Prayer for the day
Forgive me, Lord Jesus, my heart is far from pure. I confess to You all my innermost thoughts.